Donoghue & Co Accountants and Auditors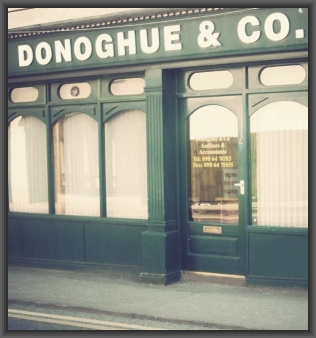 We are a well established firm of accountants in business since August 2000.
Tony Donoghue FCCA who is the Principal of the firm is a qualified member of the Chartered Association of Certified Accountants. We pride ourselves on being a small firm which benefits the client substantially compared to larger firms as clients will always have access to a qualified and experienced accountant.
We work closely with all of our clients ensuring that their needs are catered for at all times. Being a small firm we do not charge the client every time they need to call us or have a problem. We always put the client first and endeavour to solve whatever problems they encounter. We have a close relationship with all of the larger financial institutions and will assist clients in dealing with their existing or potential bank.
With over 25 years experience we are well placed to deal with all accounting and taxation needs of our clients. We have looked after the needs of many of our clients for as long as we are in business which we are proud of and see it as a testament to us providing an efficient quality service.
In all cases no matter how big or small you can be assured that all matters are dealt with in strict confidence.
Browse through our accounting and auditing services and please contact us should you need have any queries.